Description

The premier education and networking event for subcontractors,
specialty trade contractors, and suppliers

* * * EARLY-BIRD DEADLINE: FRIDAY, FEBRUARY 1, 2019 * * *

SUBExcel is the annual national convention of the American Subcontractors Association, a trade association representing construction subcontractors, specialty trade contractors and suppliers. There are many perks of attending SUBExcel:
Get proven business tips from acclaimed speakers that will transform your company and your bottom line to succeed in today's construction markets.
Learn about the latest productivity-enhancing products and services provided by ASA exhibitors.
Enjoy the luxury hotel accommodations.
Enjoy special events, including the ASA President's Welcome Reception and the Final Reception & Banquet.
Take a deeper look at your industry, your chapter, and your association and be part of mapping our industry's path forward in ASA's task force, committee and council meetings.
And much more!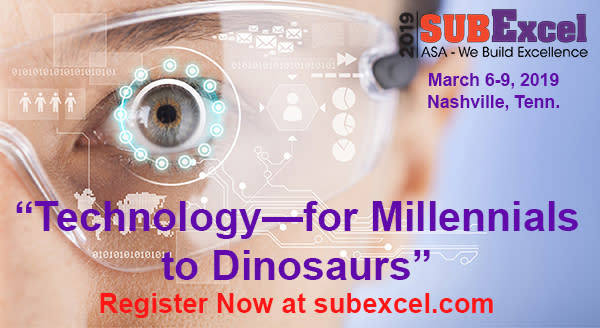 Whether you have been working in construction for a long time and are cautious about technology, or you are a tech-savvy millennial who is quick to see the benefits of technology, one thing is certain: technology in construction is here to stay. Two-thirds of general and specialty trade contractors report significant improvements to the flow of project information after incorporating mobile technologies for project teams; three-fourths of these find they have better collaboration among team members; and more than two-thirds of these report improved productivity, according to McGraw Hill Construction. More and more owners will only demand that quality work be done faster and technology will allow you to make that happen.
In keeping with this idea, the theme of SUBExcel 2019 will be "Technology—for Millennials to Dinosaurs." Several education workshops will focus on technology. Visit the Program for more information!
Watch ASA's video!
REGISTRATION FEES

Early Registration
(by Feb. 1, 2019)

Regular Registration
(after Feb. 1, 2019
1st Time ASA Member Attendee
$795.00
$995.00
ASA Member
$895.00
$1,095.00
Past National ASA President
$595.00
$795.00
Executive Directors Attending for 1st Time
Complimentary
Complimentary
All Other EDs
$447.50
$647.50
ASA Non-Member
$1,095.00
$1,295.00
Exhibitor Registrant
$500.00
$700.00
National ASA Sponsor/Exhibitor Registrant (Platinum/Gold/Silver)
Complimentary
Complimentary

.

OPTIONAL FEES

Spouse/Significant Other
$495.00
$695.00
2nd Company Registrant
$699.00
$899.00
3rd Company Registrant
$699.00
$899.00
4th Company Registrant
$699.00
$899.00
ASA Scholarship Program (Voluntary Suggested Contribution)

$25.00

Subcontractors Legal Defense Fund (Voluntary Suggested Contribution)

$100.00

.

Available Sponsorships
President's Welcome Reception Event Sponsor

$2,500.00

President's Welcome Reception Bar Sponsor

$1,500.00

President's Welcome Reception Food Sponsor

$1,500.00

President's Welcome Reception Friend of ASA

$1,000.00

Registration Area Sponsor

$3,000.00

Registration Area Co-Sponsor

$1,500.00

Welcome Gift Sponsor

$2,000.00

Keynote Speaker Sponsor

$1,500.00

Breakfast Sponsor

$1,500.00

Luncheon Sponsor

$3,000.00

Luncheon Co-Sponsor

$1,500.00

Refreshment/Networking Breaks Sponsor

$1,000.00

Audio-Visual Sponsor

$6,000.00

Audio-Visual Co-Sponsor

$3,000.00

Video Recording Sponsor

$1,500.00

Video Recording Co-Sponsor

$1,000.00

Final Reception & Banquet Sponsor

$10,000.00

Final Reception & Banquet Co-Sponsor

$5,000.00

Music at Final Reception & Banquet Sponsor

$1,000.00

Music at Final Reception & Banquet Co-Sponsor

$600.00

Cocktail Hour at Final Reception & Banquet Sponsor

$1,500.00

Cocktail Hour at Final Reception & Banquet Co-Sponsor

$750.00

Wine at Banquet Sponsor

$1,000.00

Wine at Banquet Co-Sponsor

$500.00

Hotel Room Drop Sponsor (*Sponsor is responsible for any additional hotel costs)

$1,000.00

Transportation Sponsor

$1,500.00

Transportation Co-Sponsor

$1,000.00

.

SINGLE EVENT TICKETS

Networking Tour "Music City Pub Crawl"

$75.00 per person

Banquet (INCLUDED with full registration; pricing for Spouse/Significant Other not registered for full convention

$225.00

Attorneys' Council Pass (INCLUDED with full registration; pricing for attorneys not registered for full convention

$175.00

Education Day Pass (Thursday, March 7)

$399.00

Education Day Pass (Friday, March 8)

$399.00

Education Day Pass (Saturday, March 9)

$399.00